28 juillet 2015
Definition of a hussif:
It is a case containing thread, needles, and other articles for sewing.
They were carried by soldiers in their haversacks during the Civil War,
the housewife or huswife kit was used to store sewing supplies.
These needle cases were made by family members
and given to the men before they went off to war.
******
I decided to sew one of my own and a few days ago,
I did a few prototypes of various sizes.
All sizes are nice depending on what you want to store in it !!!
*****
The complete Needle Case is sold, thanks.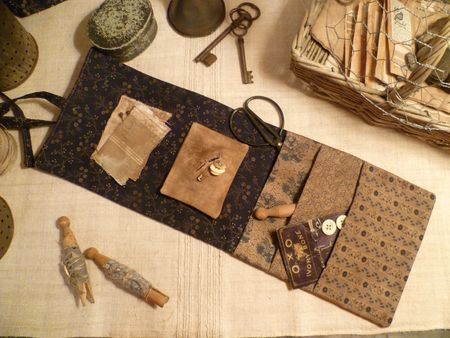 Thanks for stopping by !!!
26 juillet 2015
slip down her back so that she could feel the wind on her face and see the whole of prairie."
By the Shores of Silver Lake
*****
My new pattern is available
Completed Pillow is available HERE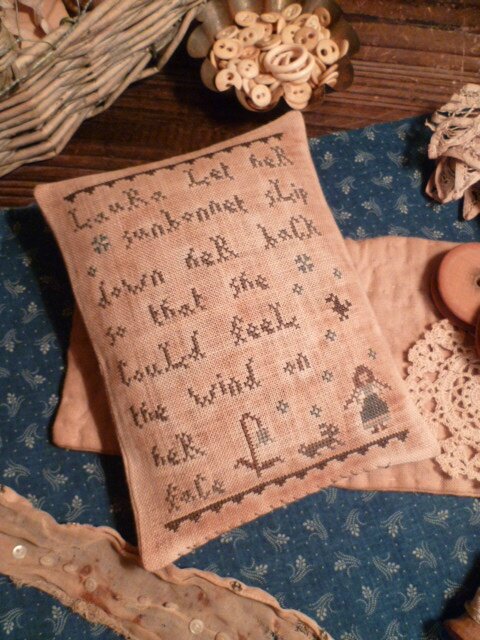 Happy creative week !!!!!!!!!!!!!!!!!!!!!!!!!!!!!
19 juillet 2015
Laundry inventory pillows were used in colonial time.
A straight pin was affixed to the appropriate number
beside each item sent for washing.
After the items were cleaned,
the pillow and pins helped to make sure
everything was accounted for.
******
I decided to create a laundry pillow
in relation with Laura Ingalls's wardrobe .
Pattern available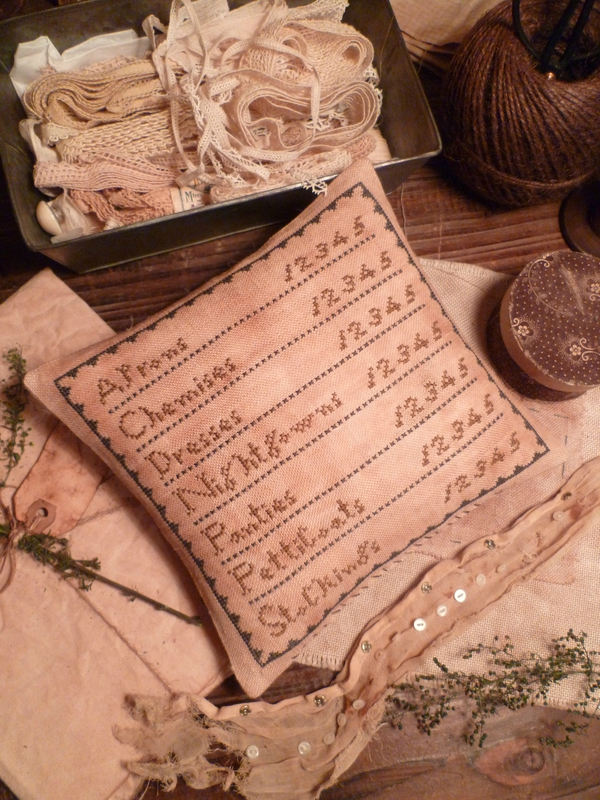 Enjoy stitching my friends !!!
15 juillet 2015
ditty bags ?
Personally, I love them. So I have decided to sew a couple of them
using some of my new fabrics and since I don't like to waste the smallest scrap of fabric,
I also sew two smaller ones !!!
******
EDIT July 16th 2015: RESERVED, THANK YOU !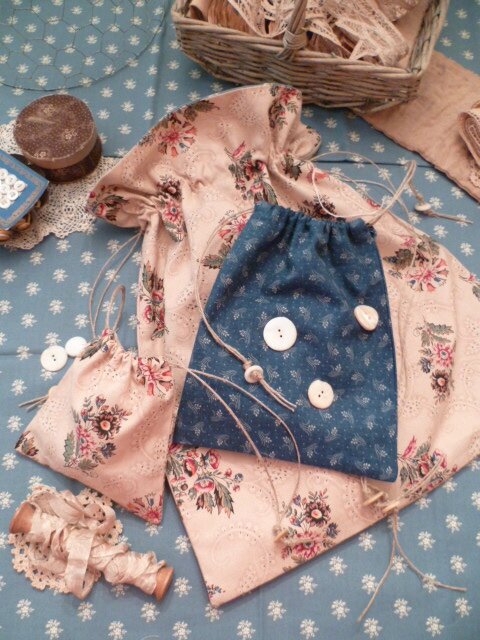 More Pics !!! Click to enlarge !!!
Outside:Enduring Legacy by Judie Rothermel for MB

Inside: Threads of Time by Julie Hendricksen for Windham Fabrics
Have a great day !!!!!!!!!!
13 juillet 2015
A new set including Two Prairie bonnets and a ditty bag + a little bonus surprise
These bonnets are made with high quality fabrics (Civil War Repro fabrics)
and are partly machine sewn and hand sewn.

SET AVAILABLE ON MY ETSY SHOP
More pictures !!! Enjoy !!!
The darker bonnet:
Bonnet made with almost 2 yards of the following fabric:
Judie's Album Quilt Royal Ditzy Daisy (Judie Rothermel for Marcus Fabrics)

The lighter lavender bonnet :
Bonnet made with almost 2 yards of the following fabric:
Edith (Windham Fabrics)
**********
Happy Week !!!!!!!!!
11 juillet 2015
for a new set including a colonial pouch and
a little ditty bag
********
RESERVED, thank you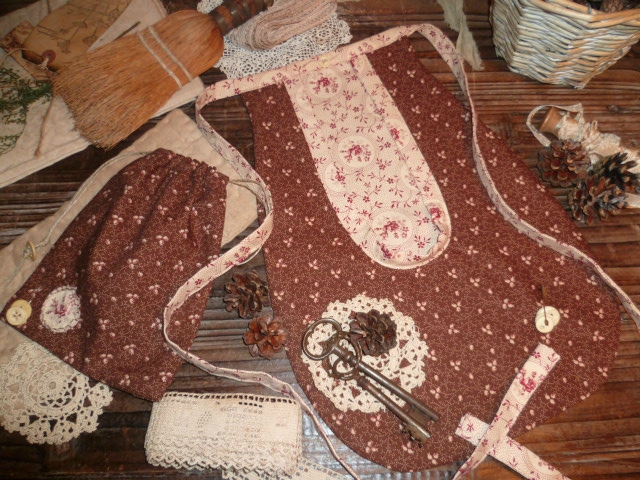 I've sewn this pocket from wonderful reproduction calico fabrics.
Treenware & Berries By Pam Buda For Marcus Brothers Fabrics for the outside
and Civil War Ladies By Judie Rothermel For Marcus Brothers for the inside
******
More Pics !!!
Have a great WE !!!
07 juillet 2015
I'm still in love with blue fabrics especially Civil War Fabric reproduction
and I am now in love with copybooks covers
and little notebooks covers !!!
*****
SOLD, thank you !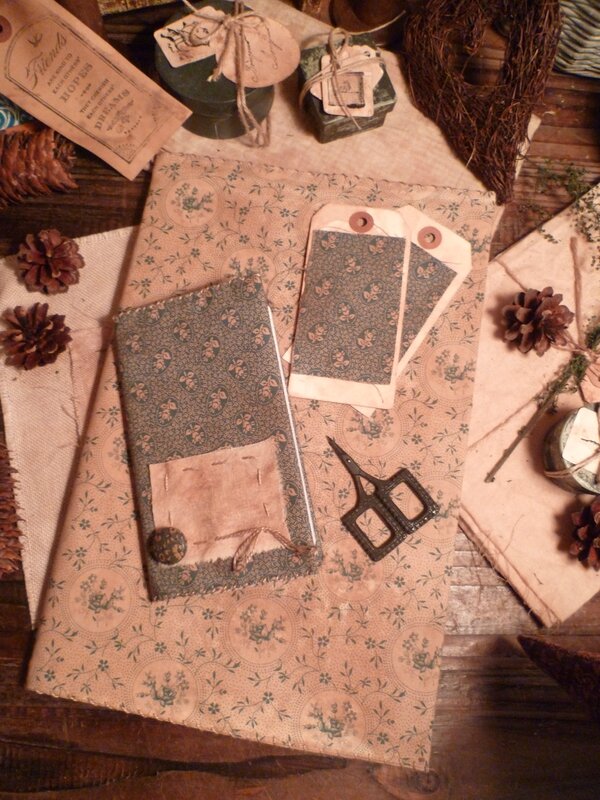 Enjoy sewing my dear friends !!!
06 juillet 2015
**** a set of 6 wooden CLOTHESPINS ****
with good old patina wrapped in aged civil era repro fabrics.

The clothespins have been stained for a more prim and vintage look

**** a set of 6 decorated TAGS ****
**** a little ditty bag / drawstring bag ****
******
AVAILABLE HERE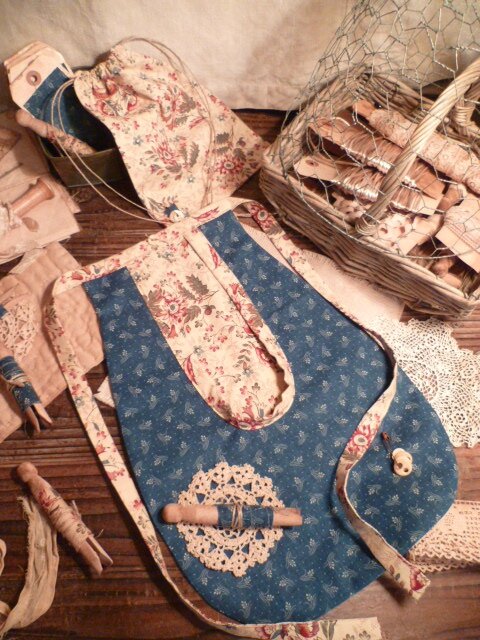 More pics ...
Happy creative week !!!
05 juillet 2015
EDIT July 6th : SOLD, thank you
I've sewn this COLONIAL POCKET from a wonderful reproduction calico fabric.

Ladies would have worn this under their skirt to carry sewing and other personals...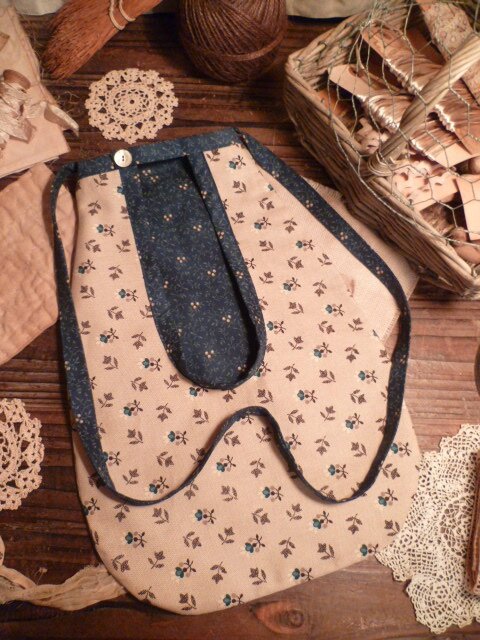 Happy Sunday my friends !!!!!!!!!!!!!!!! Hugs, Nat
01 juillet 2015
using prim' fabrics ...
My love for blue fabrics will never fade away ...
**********
Sold, thank you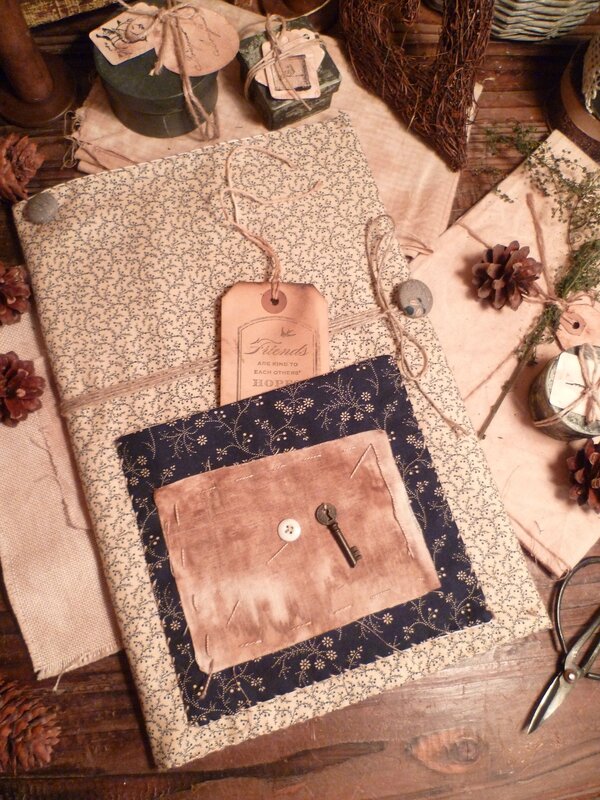 Happy sewing !!!