22 février 2016
"Everything from the little house was in the wagon
except the beds and tables and chairs.
They did not need to take these, because Pa could always make new ones."
― Laura Ingalls Wilder, Little House on the Prairie
**********
Pattern available
Completed Pillow available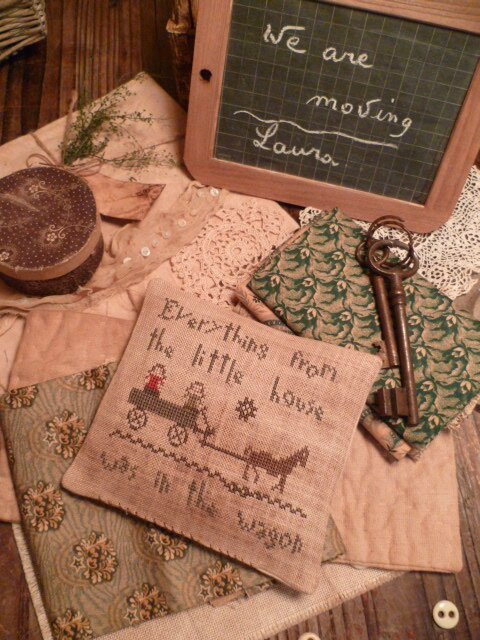 Happy Stitching my friends !!!!!!!!!!!!!!!!!!
15 février 2016
the churning and the baking days best of all the week."
Little House in the Big Woods
by Laura Ingalls Wilder
*****
You have the choice between 2 versions !!!
1st version HERE
(The completed pillows are sold, thanks))
2nd version HERE
(The completed pillow is sold, thanks)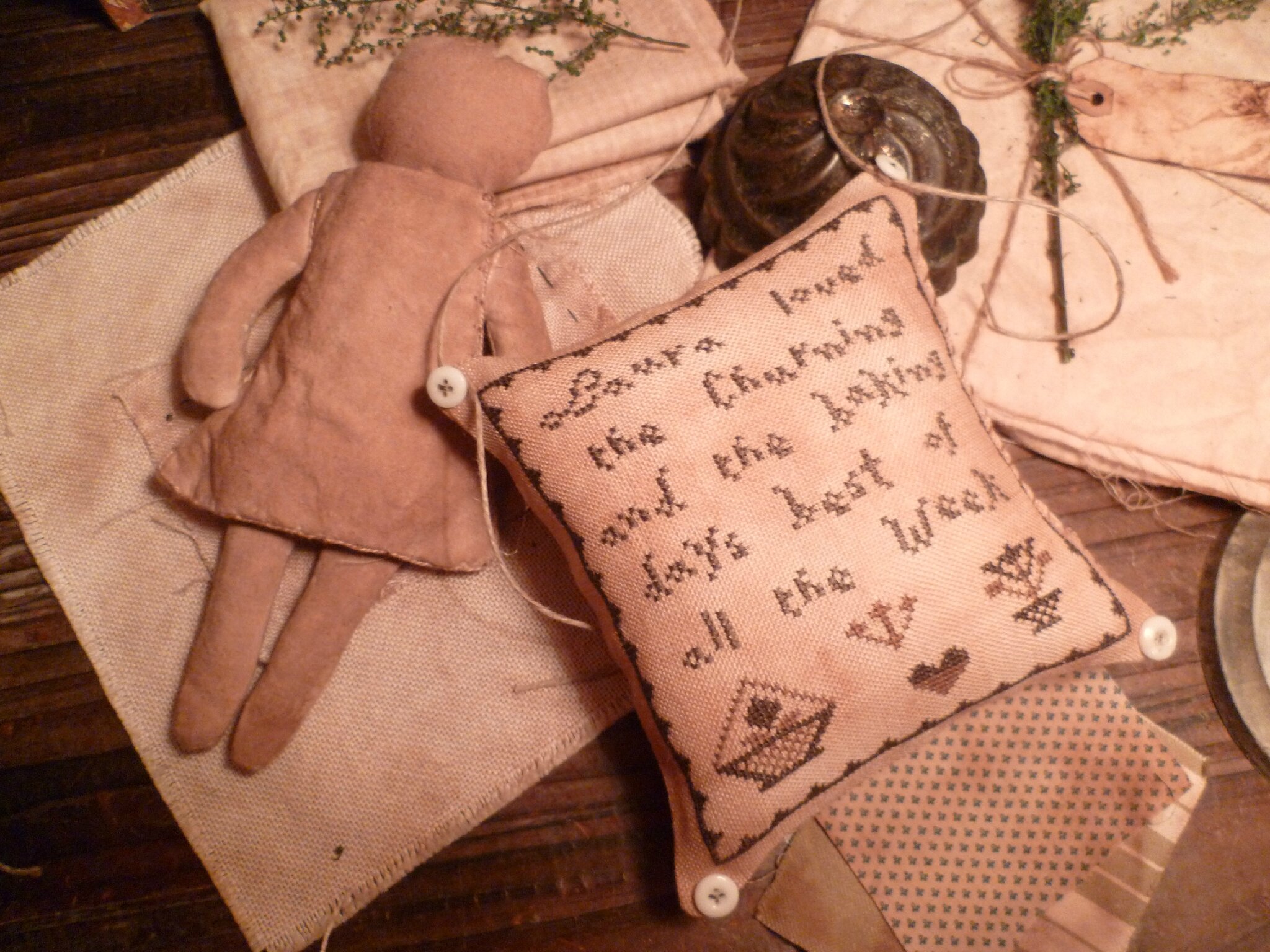 Happy Stitching my friends !!!
14 février 2016
Happy Valentine to you my friends !!!
I stitched this sweet word on a scrap of linen and
the lovely heart was offered by a nice ETSY seller ... DEBRA
(I LOVEEEEEEEEEEE ETSY both as a buyer and seller ...
there are amazing people !!!
Go and Visit Debra
This post is dedicated to my sweetheart ... Mr Poppy of course !!!
I love you to the moon and back ...
01 février 2016
Here is a simple and fast to stitch pattern
I called it "Pa and Ma".
Laura called her parents "Pa and Ma" because at that time
children did not call their parents "Dad and Mom".
I imagined this pattern to celebrate Caroline and Charles Ingalls's love ...
and also to celebrate Valentine's day !
*****
E-Pattern available
Thanks for visiting !!!
16 janvier 2016
NEW OFFERINGS in the BLUE ATTIC Shop
A set of 3 pieces that includes
a Prairie Bonnet
a big ditty bag an d a tiny one.
(Fabrics by Judie Rothermel)
***************
Available HERE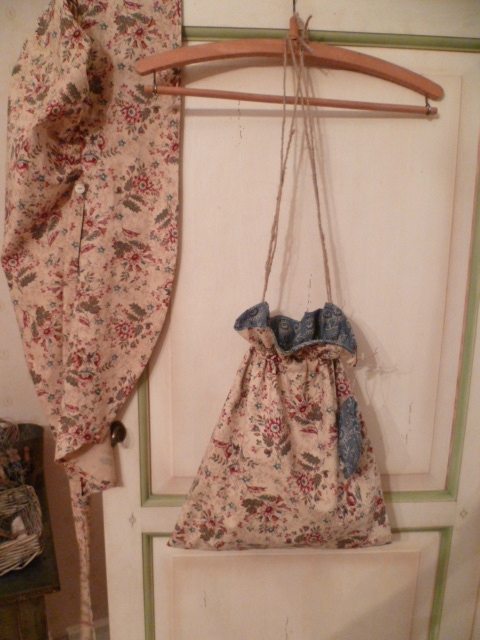 Have a great day !!!
09 janvier 2016
As inspiration for this new set of patterns I am using the adorable scene of Laura Ingalls Wilder
discovering and admiring the pantry that Almanzo made her in their new home
(as described in "These Happy Golden Years").

********************
Patterns available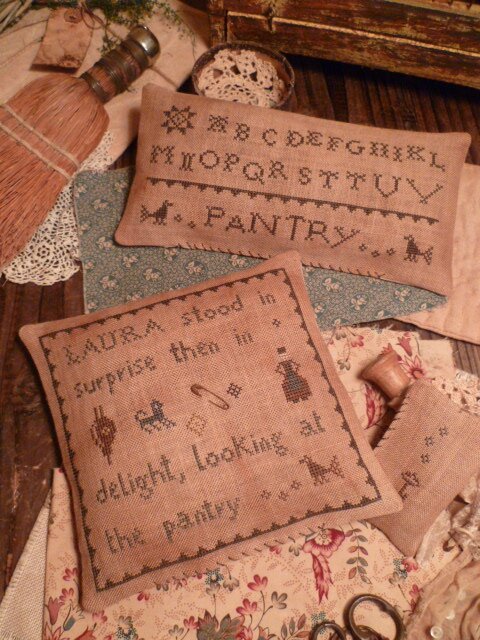 Click to enlarge !!!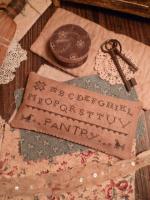 Laura returned to the front room.
She took up Ma's basket, and opened the last door.
She knew it must be the pantry door,
but she stood in surprise and then in delight, looking at the pantry.
All one wall was covered with shelves and drawers,
and a broad shelf was under a large window at the pantry's far end....
******************
Happy Stitching my friends !!!
01 janvier 2016
*****H*A*P*P*Y *****N*E*W****Y*E*A*R*****
Wishing you all the best for the year 2016
health, happiness ...and joyful days
I also want to say" THANK YOU" to all my friends and customers because
you have both inspired me and encouraged me in creating designs.
I am looking forward for another fabulous year ...
B*E*S*T W*I*S*H*E*S
Happy Stitching !!!!!!!!!!!!!!!!
21 décembre 2015
That's what Ma said to Grace because the little girl was anxious that
Santa could not come because of bad weather conditions.
*****
This pattern is available HERE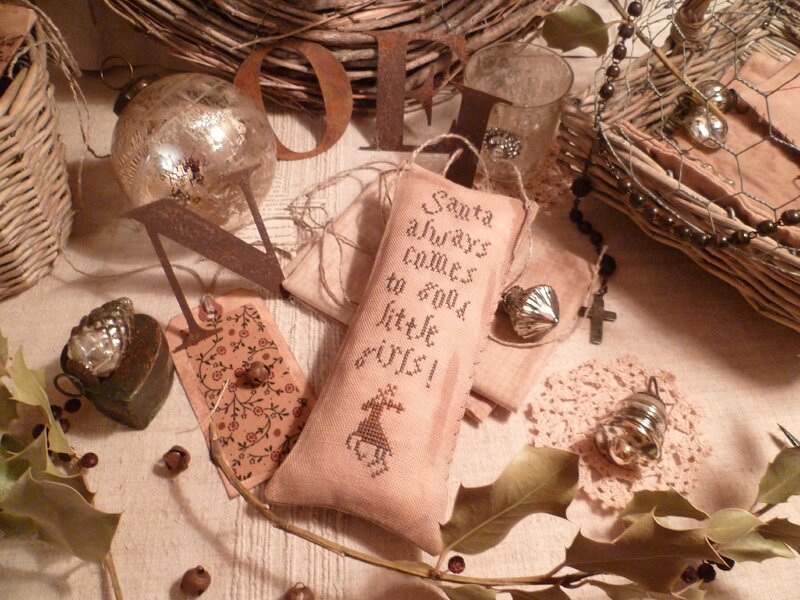 *****
Feel free to contact me if you are interested !!!
Thanks for stopping by ! Have a great day !
20 décembre 2015
I love using my scraps of fabrics for very small projects ....
I enjoyed a lot stitching and sewing this !!!!
****************
Sold, thank you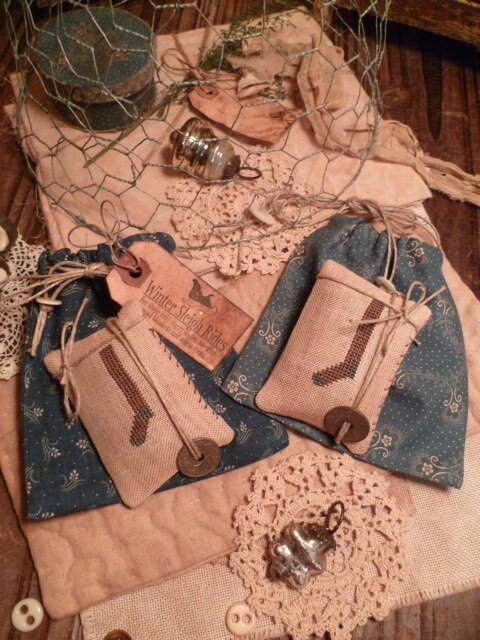 Happy Stitching my friends !!!!!!!!!!!!!!!!
15 décembre 2015
Very simple and prim pillows ...
I also sew 3 little ditty bags in order to use my scraps of fabrics ...
*******
Sold, thank you !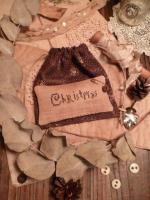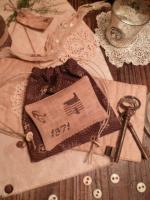 Have a great day !!!!!!!!!!!!!