25 janvier 2018
Time flies and
Saint Valentine's Day will come soon ...
*****
This pattern comes from
the book
"Petits Messages à Broder "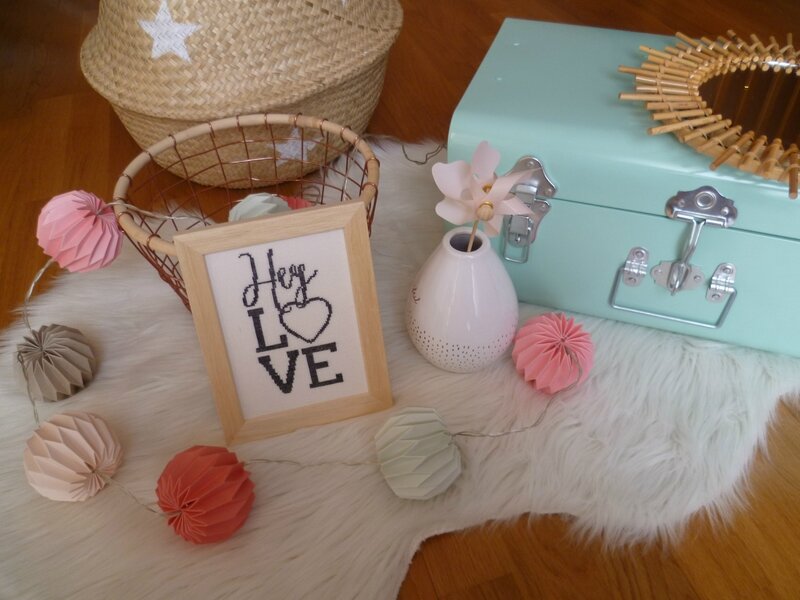 Thanks for visiting ...
11 septembre 2017
You probably remember that I
have already stitched this sweet pattern
designed by "Le Chalet des Pérelles".
I love it so much that
I stitched a gray/blue version (DMC 169)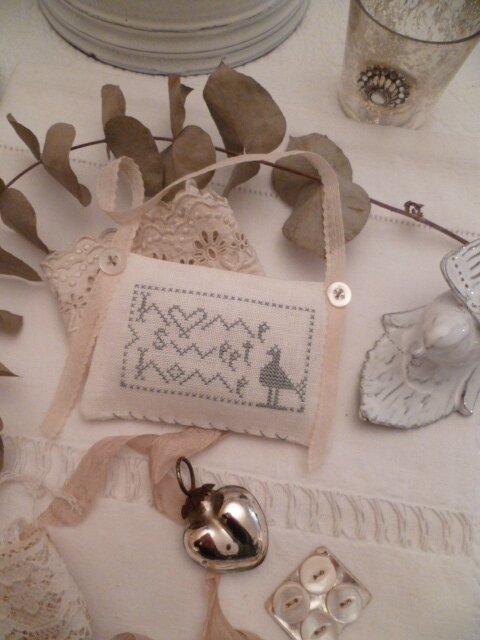 I also fell in love with this cute pattern
designed by Marijke and
found HERE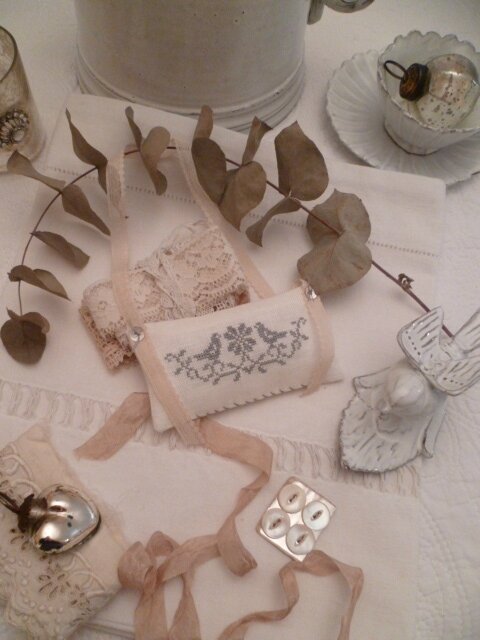 Thanks for visiting !!!
24 juillet 2017
The set is RESERVED, thank you !!!
****************
"There is no charm equal to tenderness of heart"
Design by The Samplar Girl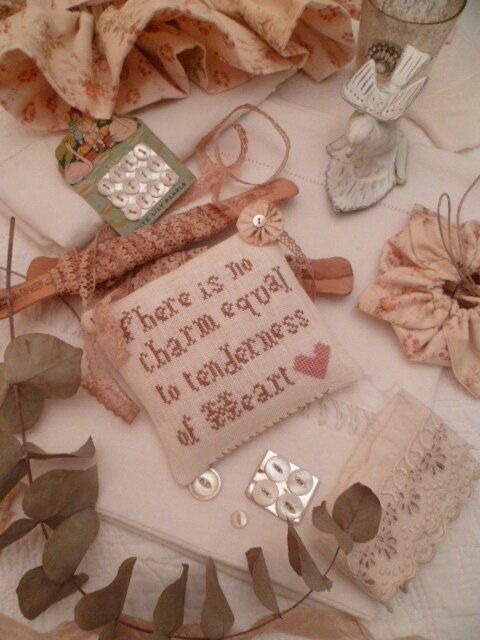 Click to enlarge the pics !!!
Beware: Will fill the 2 lil' Gift Bags with French Lavender
The Big Drawstring Bag
high quality fabrics and fully lined as usual
Height 19 inches x Width 18 inches (48,5 cm X 47 cm)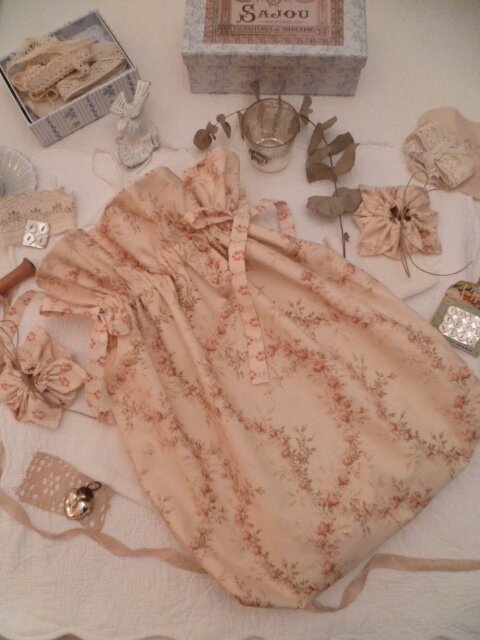 "Scatter Smiles"
Adapted from a design by Victorian Motto Sampler
Thanks for visiting ...
See you tomorrow for episode 2
11 février 2017
With Love
Happy Saint Valentine's Day in advance !!!
Pattern available HERE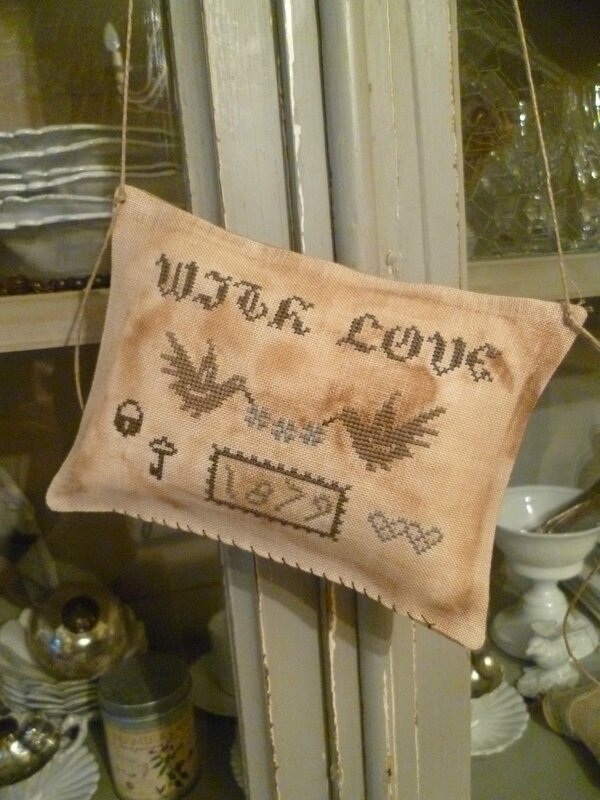 30 janvier 2017
To celebrate Saint Valentine's day
here is a fast to stitch pattern
******
It is available HERE
(2 versions !!! blue and grege !)
******
The 2 Completed pillows are available for France only
*******
Blue version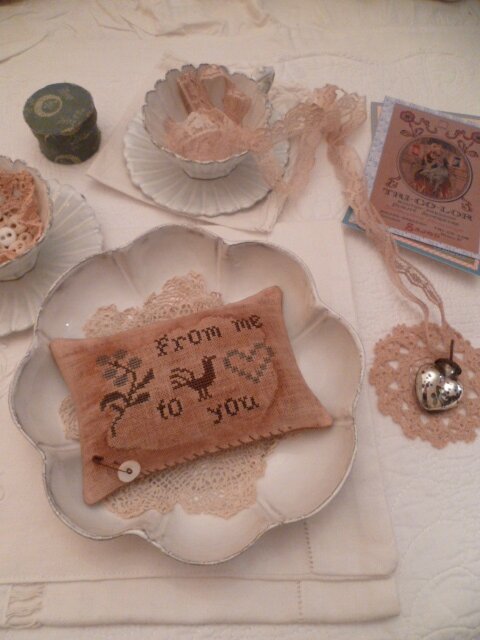 Grege Version HERE
******
Happy Stitching my friends !!!
23 janvier 2017
If you have nothing nice to say ...then say nothing at all."
Joseph Black Sanders
(My dear friend Montine asked me to create a piece using this sentence
frequently used by her dear father ... so true !!!
*******
Pattern available HERE
This pillow is dedicated to Montine's mother ... Helen
*******
Pattern available HERE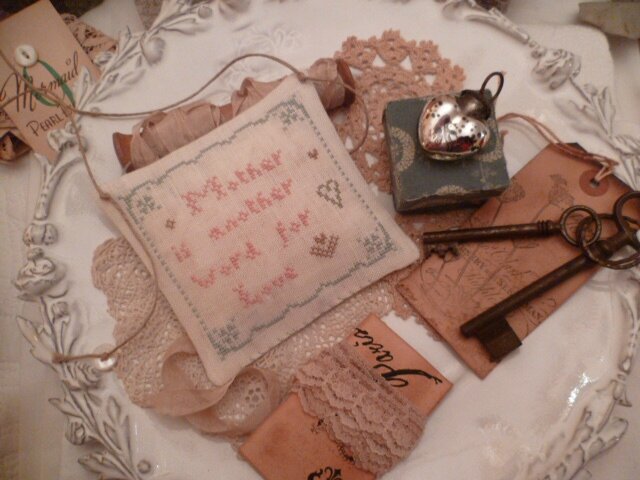 Here is another pillow dedicated to both Helen and Joseph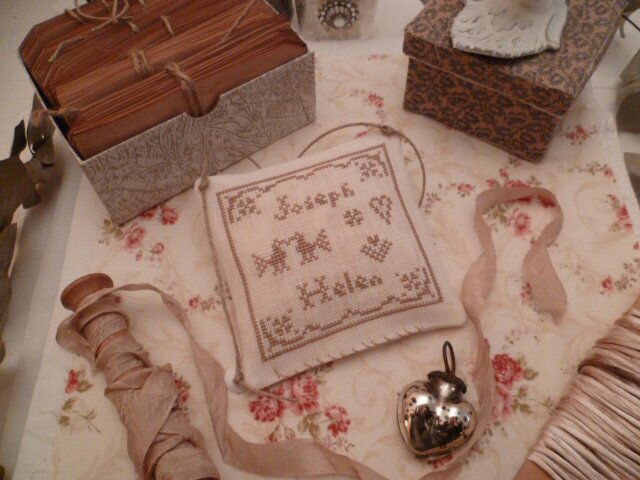 and a pouch to celebrate their wedding anniversary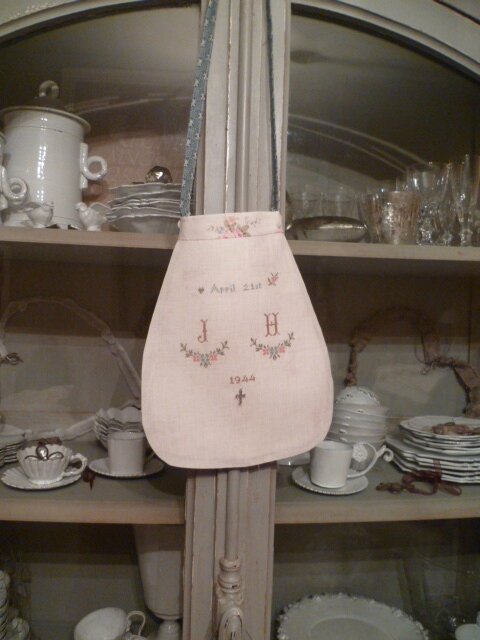 Thanks for visiting !!!! Have a great day !!!
16 janvier 2017
I sew our names to give my mother her honor due".
I created this pattern for an adorable customer (Montine)
who wanted to pay tribute to her dear Mom.
*******
Pattern available (I will personalize the names ONLY, thanks)
*******
SOLD, thank you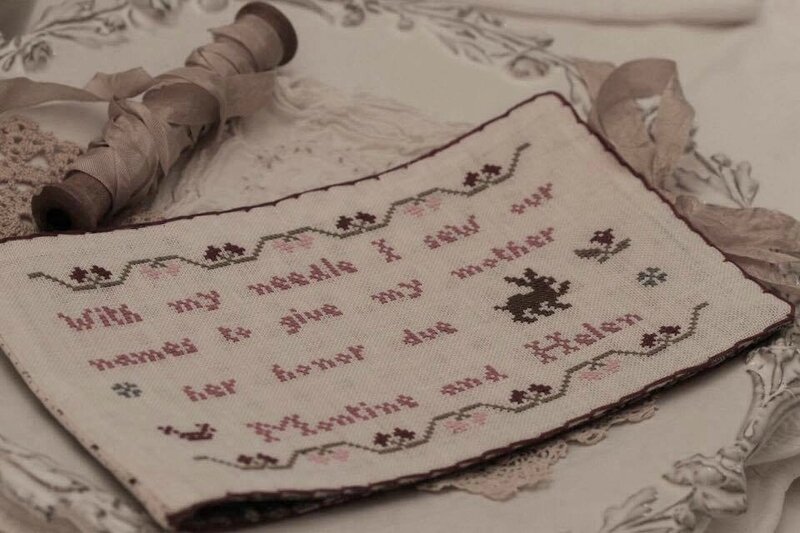 The inside of the "big"pouch / sewing book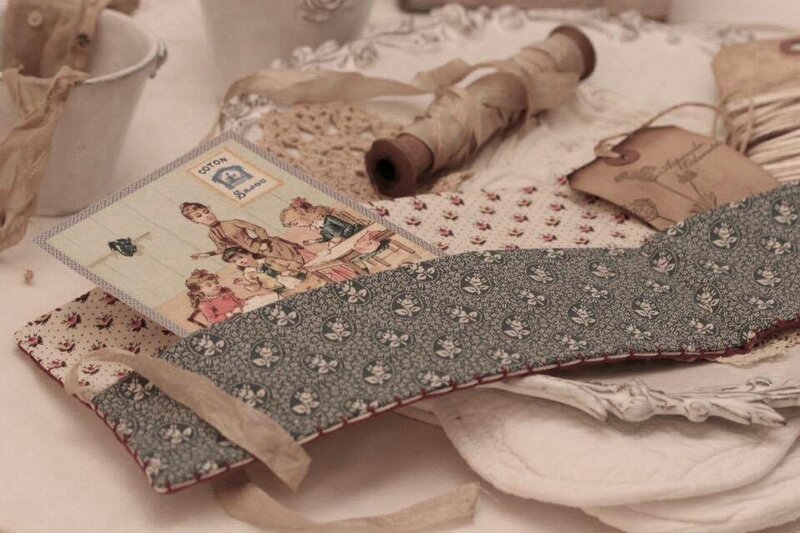 A small project with Montine's favorite motif ... a rabbit !!!
and initials ...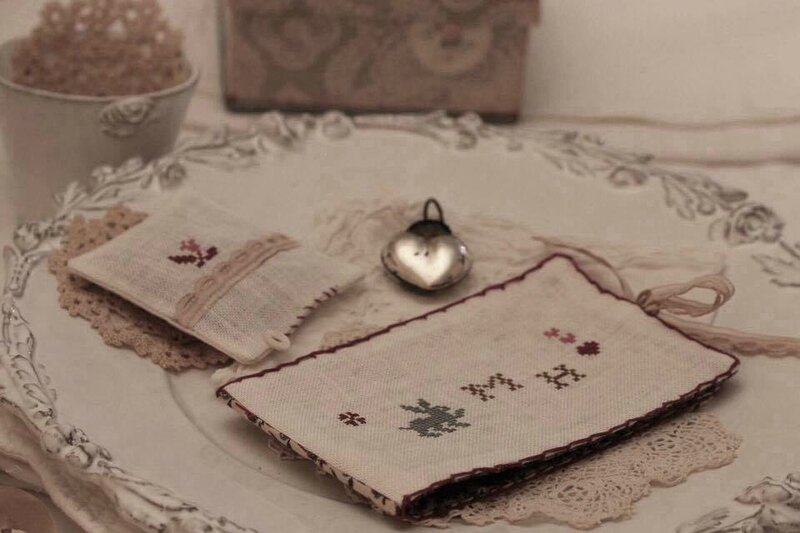 The inside of the small pouch / sewing book
as well as the tiny pillow with a sweet flower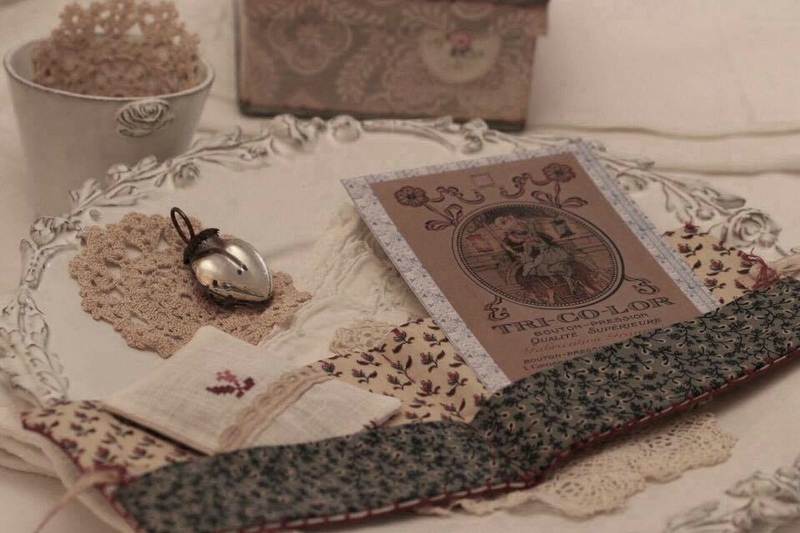 I enjoyed a lot creating this set for this adorable lady ...
Thanks for visiting my friends !!!
14 février 2016
Happy Valentine to you my friends !!!
I stitched this sweet word on a scrap of linen and
the lovely heart was offered by a nice ETSY seller ... DEBRA
(I LOVEEEEEEEEEEE ETSY both as a buyer and seller ...
there are amazing people !!!
Go and Visit Debra
This post is dedicated to my sweetheart ... Mr Poppy of course !!!
I love you to the moon and back ...
01 février 2016
Here is a simple and fast to stitch pattern
I called it "Pa and Ma".
Laura called her parents "Pa and Ma" because at that time
children did not call their parents "Dad and Mom".
I imagined this pattern to celebrate Caroline and Charles Ingalls's love ...
and also to celebrate Valentine's day !
*****
E-Pattern available
Thanks for visiting !!!
08 avril 2015
Last WE, I decided to stitch this pattern I designed 3 years ago
but decided to modify my palette
since I do not stitch on raw linen any more ...
This is the result ... mue colors for a very prim style
What do YOU think ?
******
PATTERNS available HERE
******
The "blue" version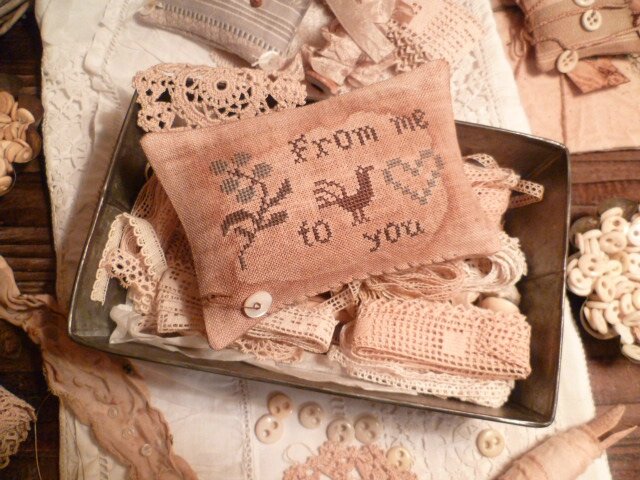 The "grège" version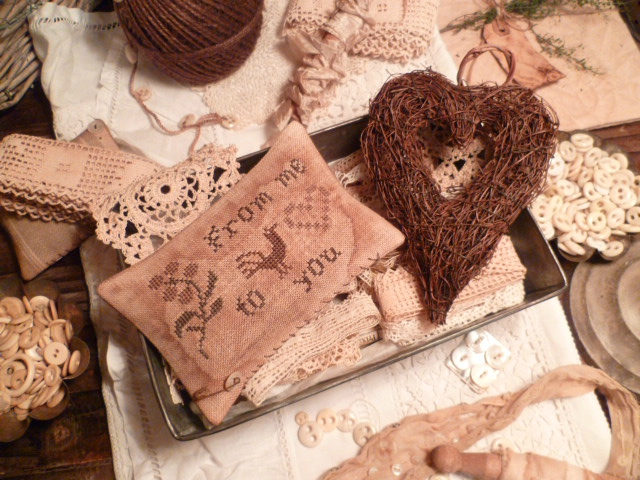 Have fun stitching !!!!!!!!!!!!!!!!!!!! Hugs, Nat