24 juillet 2017
The set is RESERVED, thank you !!!
****************
"There is no charm equal to tenderness of heart"
Design by The Samplar Girl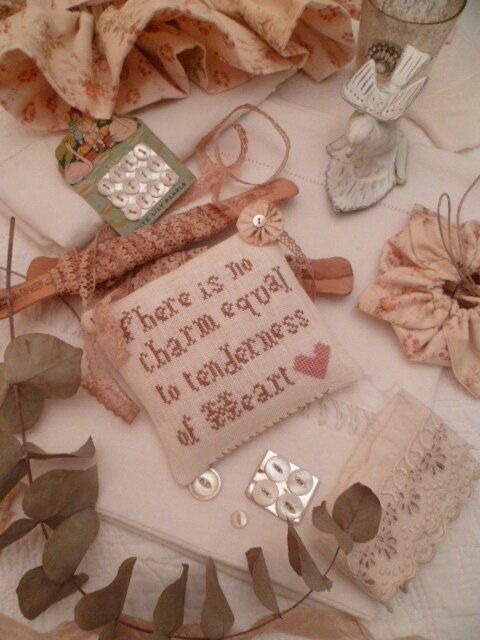 Click to enlarge the pics !!!
Beware: Will fill the 2 lil' Gift Bags with French Lavender
The Big Drawstring Bag
high quality fabrics and fully lined as usual
Height 19 inches x Width 18 inches (48,5 cm X 47 cm)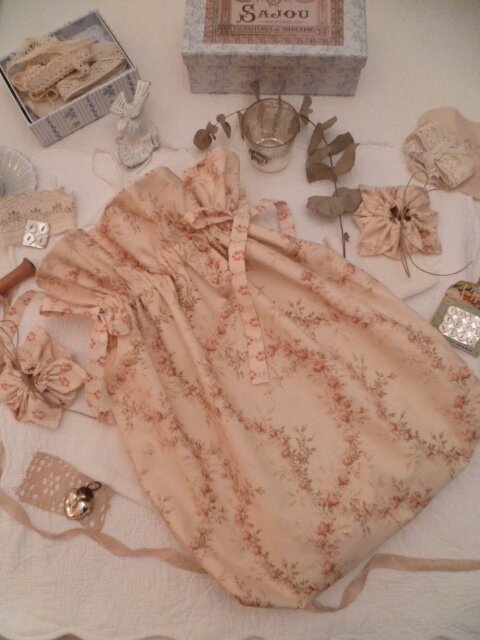 "Scatter Smiles"
Adapted from a design by Victorian Motto Sampler
Thanks for visiting ...
See you tomorrow for episode 2
05 mai 2017
I wanted to try this lovely pouch pattern by
Pascale from Plume de Lin ...
and I remember these lil' gift drawstring bags
that I sew for the first time a long time ago ...
Still love this pattern ...
*****
Sold, thank you
Thanks for visiting ...
13 juillet 2015
A new set including Two Prairie bonnets and a ditty bag + a little bonus surprise
These bonnets are made with high quality fabrics (Civil War Repro fabrics)
and are partly machine sewn and hand sewn.

SET AVAILABLE ON MY ETSY SHOP
More pictures !!! Enjoy !!!
The darker bonnet:
Bonnet made with almost 2 yards of the following fabric:
Judie's Album Quilt Royal Ditzy Daisy (Judie Rothermel for Marcus Fabrics)

The lighter lavender bonnet :
Bonnet made with almost 2 yards of the following fabric:
Edith (Windham Fabrics)
**********
Happy Week !!!!!!!!!
03 juin 2012
to store ... "My Little Treasures" ...
******
E-Pattern: HERE
*****
Completed Sewing Book: Sorry, I am sold. Thanks
******
Look folks !!!
This lovely cupcake was kindly offered to me by my dearest friend ELENA
CLICK TO ENLARGE THE PICS !
******
My dearest friend ELENA has also stitched this pattern and you can have a sneak peak
Her interpretation is just STUNNING !!!