25 septembre 2017
IF YOU WANT TO BUY ONE OR SEVERAL PATTERNS
OR FINISHED GOODIES
READ PLEASE !
It is simple !
1 / MAIL ME at nmelot@orange.fr
2 / Give me the LIST of the patterns or items you would love to buy
PLEASE COPY and PASTE the link of the patterns /items, that will be better
3 / I will send you a Paypal request
so do not forget to give me your Paypal email
4 / I will send you the patterns / items once the payment is received !!!
******
Just to celebrate ... FRIENDSHIP ...
"Treasured Friend" by Homespun Elegance
and "Souvenir de Paris" by BBD
*******
(Patterns found HERE and HERE)
Have a great week !!!! Love, Nat
23 avril 2015
This is a new version of one of my oldest pattern ...
I got inspiration from Laura Ingalls whose best friend was Ida Belle Wright.
I imagine this pouch ... that can be filled with sewing notions,
vintage buttons, trim or lace etc ....
*****
PATTERN available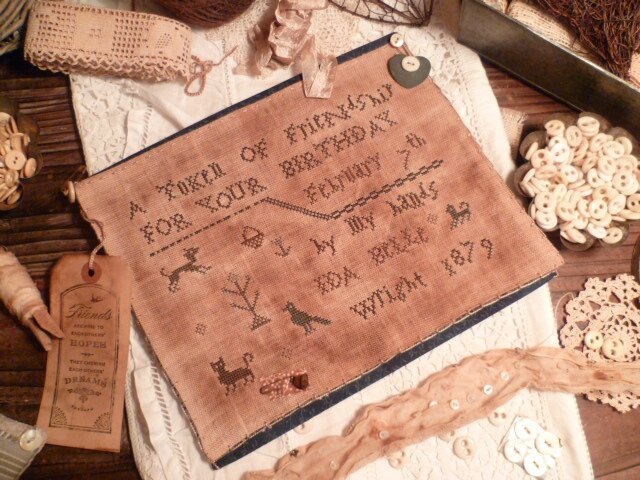 I also did this little pillow ... as a sweet treat !!!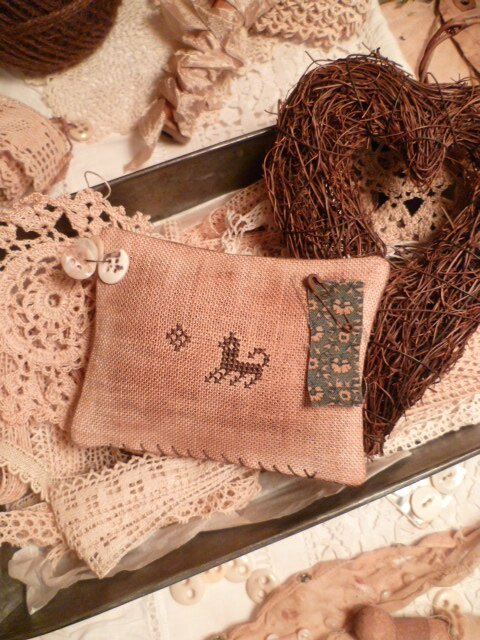 Have fun stitching sweet friends !!!
08 avril 2015
Last WE, I decided to stitch this pattern I designed 3 years ago
but decided to modify my palette
since I do not stitch on raw linen any more ...
This is the result ... mue colors for a very prim style
What do YOU think ?
******
PATTERNS available HERE
******
The "blue" version
The "grège" version
Have fun stitching !!!!!!!!!!!!!!!!!!!! Hugs, Nat
01 janvier 2015
An other pattern dedicated to friendship ...
Happy New Year to all my friends !!!
******
This pattern is available
MORE PICS ... CLICK CLICK
Thanks for visiting ...