08 avril 2015
Last WE, I decided to stitch this pattern I designed 3 years ago
but decided to modify my palette
since I do not stitch on raw linen any more ...
This is the result ... mue colors for a very prim style
What do YOU think ?
******
PATTERNS available HERE
******
The "blue" version
The "grège" version
Have fun stitching !!!!!!!!!!!!!!!!!!!! Hugs, Nat
28 février 2015
A Jack rabbit, little bunnies and flowers with tiny rusty bells
**********
Sold, thank you
(a second set is available, mail me if you are interested)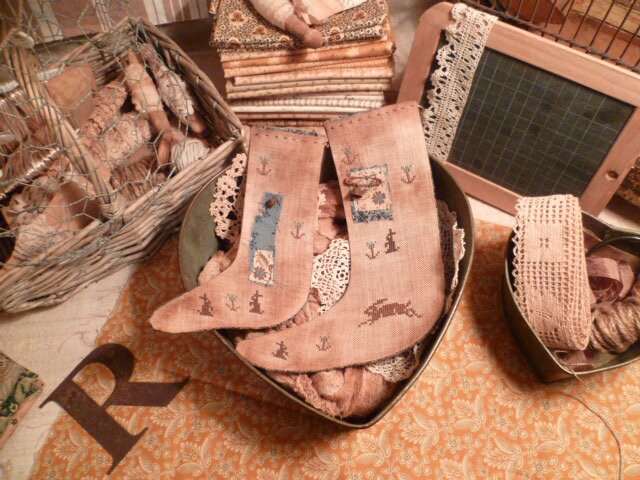 Happy stitching to all of you my dear friends !!!
23 février 2015
In the weeks to come, I will be offering a few handmades for purchase
for Easter / Spring time
*****
Pattern available HERE
2 ComPleTeD PiLLoWS are AVAILABLE HERE
Happy Stitching my friends !!!
20 janvier 2015
and precisely for 1800s Reproduction Fabrics keeps growing ...
******
Early Blues ...
Here is my latest pattern available in my Etsy Shop
The finished pillow is available
(contact me)
the little ditty bag is sold ... thank you !!!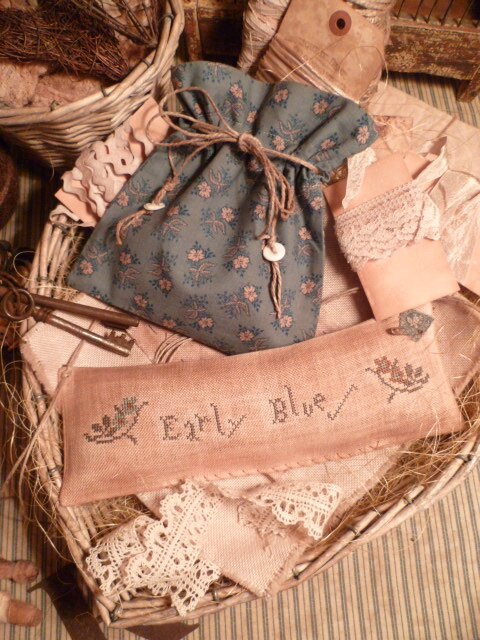 Enjoy stitching my friends !!!
Have a great day !!!
22 mai 2014
Grace Pearl Ingalls was born on May 23rd 1877
She was Charles and Caroline's fourth daughter.
She had golden hair like Mary and large violet eyes ...
******
A new pattern available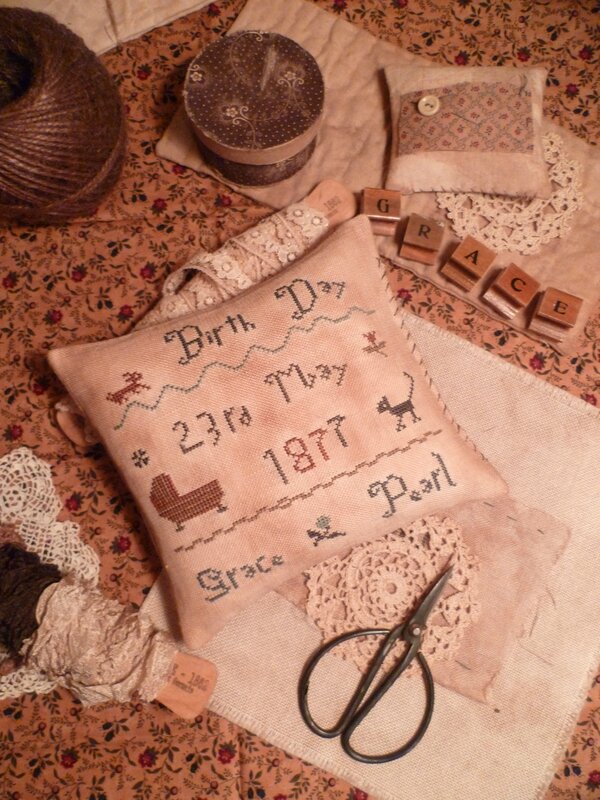 Happy stitching my friends !!!
05 mai 2014
and took them to Ma."
Laura Ingalls Wilder
******
While reading this sentence, I couldn't help thinking of me as a little girl,
picking flowers for my dear Mom ...
Maybe you would love to stitch it to celebrate Mother's Day
*******
My new pattern is available
*******
Completed Pillow: SOLD, thank you !!!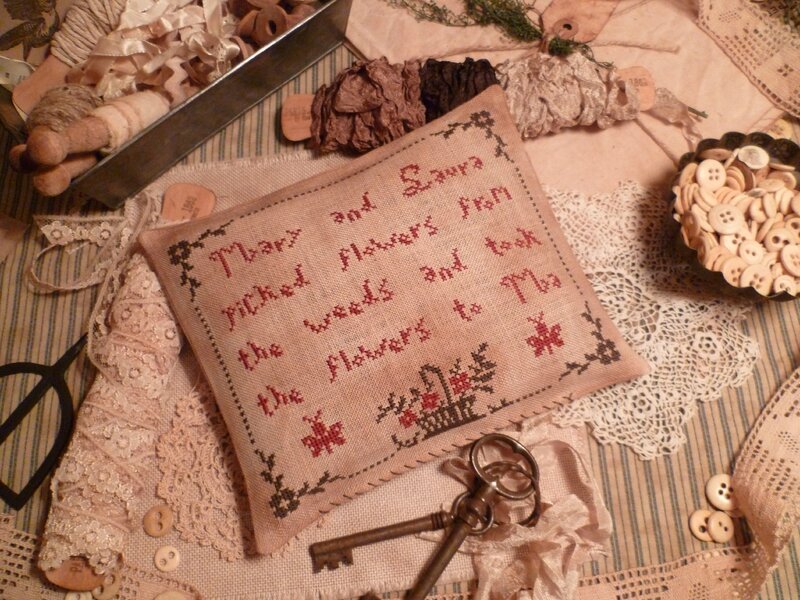 Happy Stitching !!!
24 mars 2014
A little pouch to hunt for eggs !!!
Since it is simple and very fast to stitch,
I did a couple of them to offer some of my friends.
Available HERE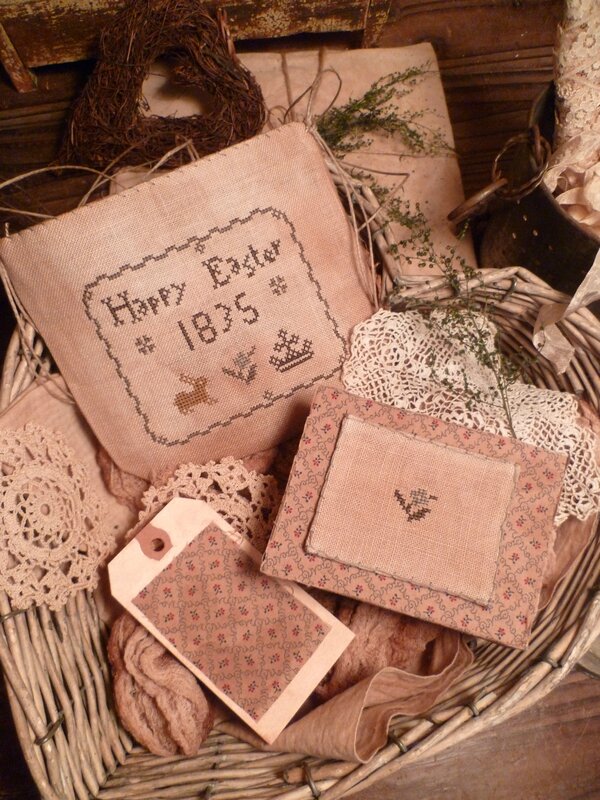 Thanks for stopping by !!!
14 mai 2013
Home is the nicest word there is.
Laura Ingalls
*****
Here is my latest pattern which it is available
in my ETSY Shop
Complete Pocket is sold, thanks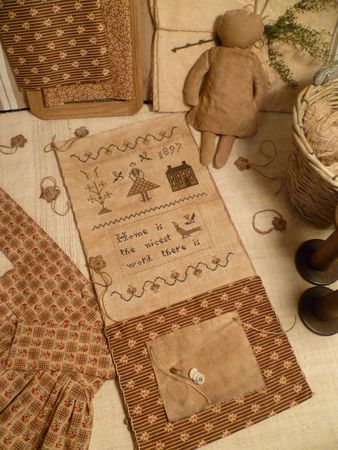 Thanks for visiting
ALL MY E-PATTERNS CAN BE BOUGHT via
OR
YOU CAN SEND ME AN E-MAIL via CONTACTEZ L'AUTEUR
01 octobre 2012
This pattern is dedicated to my beloved mom and dad
With Love, your loving daughter
*****
This E-pattern is available
in my ETSY Shop
*****
Sorry,the completed pouch is SOLD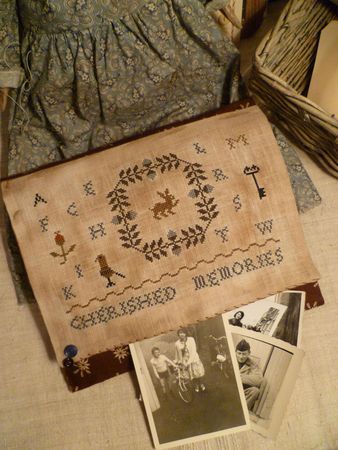 *****
If you are interested in this pattern or
any of my previous patterns / pillows,
feel free to contact me HERE