16 janvier 2016
NEW OFFERINGS in the BLUE ATTIC Shop
A set of 3 pieces that includes
a Prairie Bonnet
a big ditty bag an d a tiny one.
(Fabrics by Judie Rothermel)
***************
Available HERE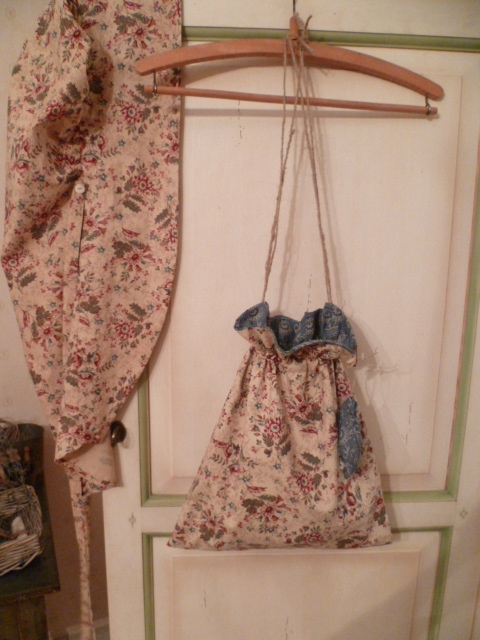 Have a great day !!!
09 janvier 2016
As inspiration for this new set of patterns I am using the adorable scene of Laura Ingalls Wilder
discovering and admiring the pantry that Almanzo made her in their new home
(as described in "These Happy Golden Years").

********************
Patterns available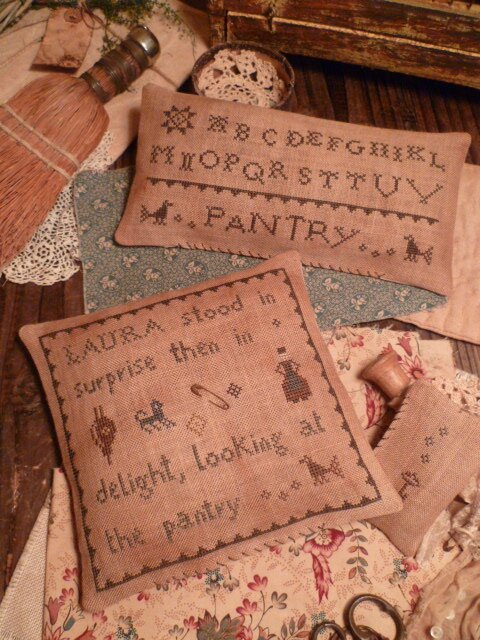 Click to enlarge !!!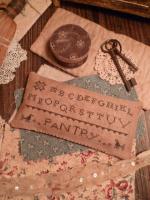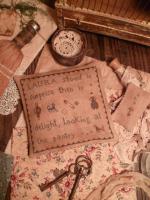 Laura returned to the front room.
She took up Ma's basket, and opened the last door.
She knew it must be the pantry door,
but she stood in surprise and then in delight, looking at the pantry.
All one wall was covered with shelves and drawers,
and a broad shelf was under a large window at the pantry's far end....
******************
Happy Stitching my friends !!!
01 janvier 2016
*****H*A*P*P*Y *****N*E*W****Y*E*A*R*****
Wishing you all the best for the year 2016
health, happiness ...and joyful days
I also want to say" THANK YOU" to all my friends and customers because
you have both inspired me and encouraged me in creating designs.
I am looking forward for another fabulous year ...
B*E*S*T W*I*S*H*E*S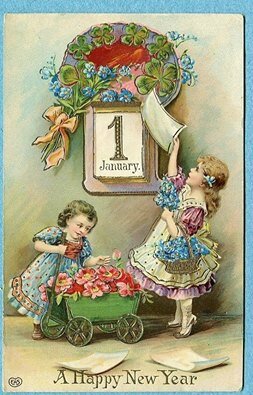 Happy Stitching !!!!!!!!!!!!!!!!
21 décembre 2015
That's what Ma said to Grace because the little girl was anxious that
Santa could not come because of bad weather conditions.
*****
This pattern is available HERE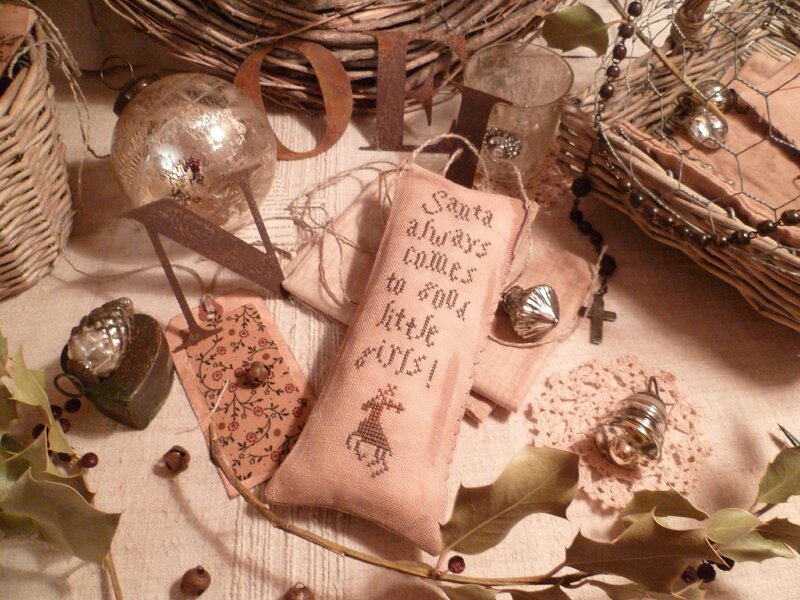 *****
Feel free to contact me if you are interested !!!
Thanks for stopping by ! Have a great day !
09 décembre 2015
As Laura matures, she concludes in On the Shores of Silver Lake that
"Every Christmas is better than the Christmas before…
I guess it must be because I am growing up."
*****
E-Pattern available
Happy stitching my friends !!!
01 décembre 2015
were looped all over the tree"
Laura Ingalls Wilder
On the Banks of Plum Creek
*****
A New Pattern available
You will have the possibility to sew a pillow or a pouch !
Enjoy !!!
I also stitched a pouch version ... I love pouches so much !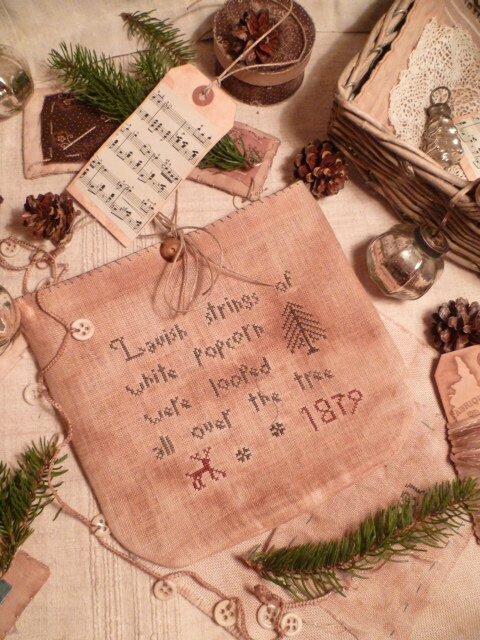 Happy Stitching my friends !!!
21 novembre 2015
My pattern OH ISN'T THIS THE NICEST CHRISTMAS ?

a Laura Ingalls's quote
E-PATTERN available
**************************
Picture and Pillows stitched by a talented lady (Susan Hoover)
Have a great WE !!! Happy Stitching my dear friends !!!
31 octobre 2015
My talented friend Nicole Lecaille stitched one of my cross stitch pattern
and I must confess she did a wonderful job !!!
Wow ! Nicole, I love EVERYTHING !!! Congrats !!!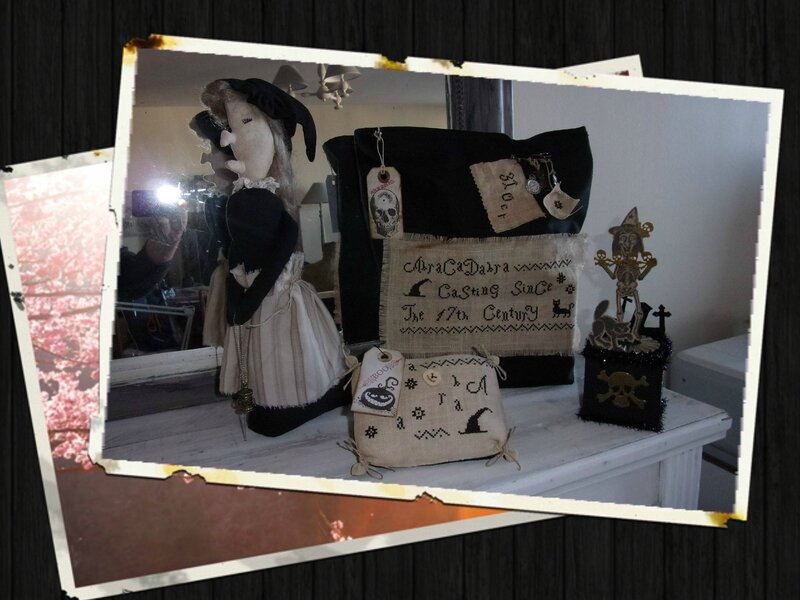 Nicole used the "Abracadabra" motifs to stitch a unique version !!!
Too cute !!!!!!!!!!!
Happy Halloween to all of you sweet friends !!!
21 octobre 2015
Halloween is coming soon ...
Here is a pattern just perfect to celebrate October 31st ...
Pattern available in my Etsy Shop
*******
(Pictures and finishing by my dear friend Elena)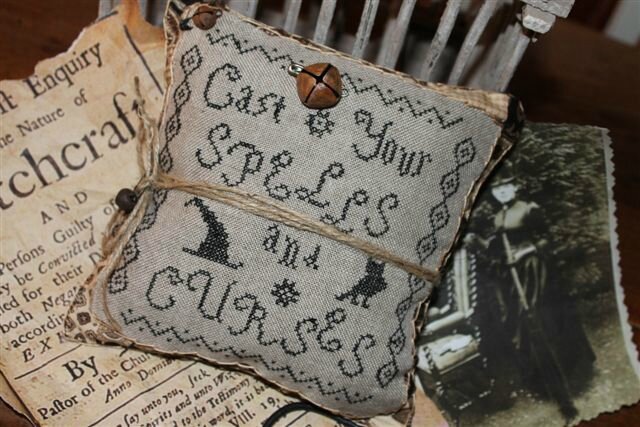 Back of Pillow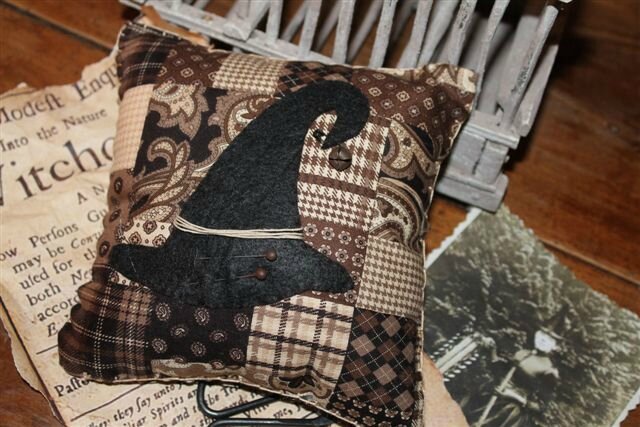 Enjoy stitching my friends !!!
05 octobre 2015
and Laura and Mary made acorn cups and saucers for the playhouses."
Little House in the Big Woods, by Laura Ingalls Wilder
***** This pattern is available HERE*****
(The completed pillow is sold, thanks)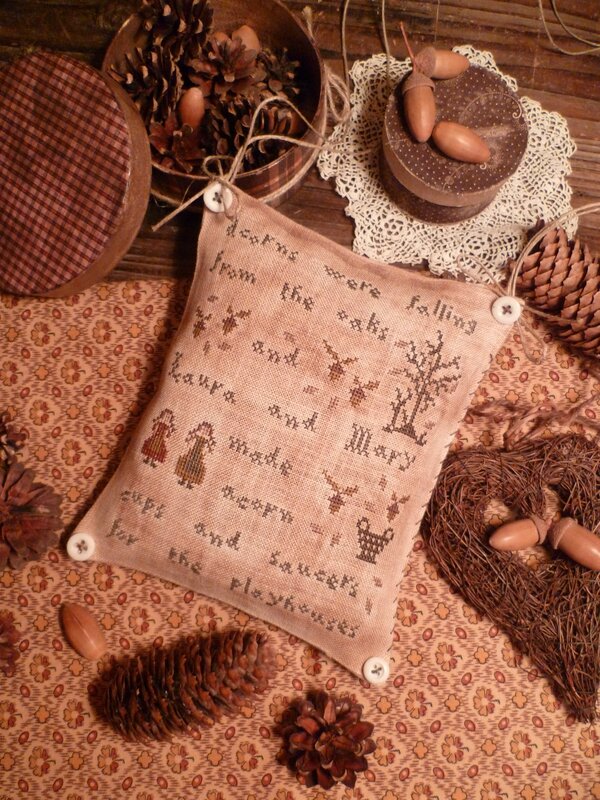 Thanks for stopping by ! Enjoy stitching !!!