22 février 2014
Caroline Ingalls, born Caroline Lake Quiner
(December 12, 1839 – April 20, 1924)
was the mother of Laura Ingalls Wilder,
I imagined that she could have stitched
this little sampler when she was 10 years old ...
*****
Completed Pillow SOLD, THANKS
Thanks for visiting !!!
13 février 2014
Love is in the air !
Happy Valentine's day my friends !
******
Sorry, we are sold ! Thanks
Have a great day !!!
07 février 2014
HAPPY BIRTHDAY TO LAURA INGALLS
born on 7th February 1867
*****
Once again, I got inspiration from Laura Ingalls:
Ida Belle Wright was one of her best friend so I imagined
that Ida did this sweet token of affection for her dearest friend ...
*****
This E-Pattern is available
Completed pouch is sold, thanks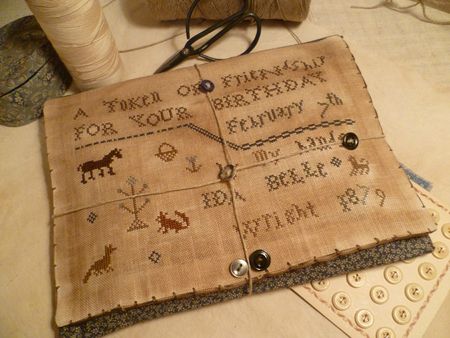 Click Click to enlarge the pics !
*****
Thank you for visiting and come back often!!
Smiles
HAVE FUN STITCHING !!!
01 février 2014
are taken up with my needle
1851
Ellen Birdseye Wheaton came from a prominent Syracuse family.
She married at the age of 18 and had 12 children.
The diary she kept until her death in 1858, at age 42,
illuminates her own life and
opens a window onto the lives of women in 19th century Syracuse.
*********
Happy stitching my friends !