25 août 2012
127 years ago, Laura Ingalls and Almanzo Wilder got married
*****
This e-pattern is offered as a BONUS with my Laura Ingalls Sewing Pouch Pattern.
If you are interested ONLY in this little e-pattern
you can find it HERE
Completed pillow: sold
Have a great WE ! Thanks for stopping by
16 août 2012
I just felt like stitching and sewing a little project,
using my scraps of early blues ...
I imagined this fast to be stitched pinkeep and I also enjoyed covering some buttons !
************
(The completed pinkeep is sold, thanks)
HAVE FUN STITCHING !!!
13 août 2012
WILDER-INGALLS. - At the residence of the officiating clergyman, Rev. E. Brown,
August 25, 1885. Mr. Almanzo J. Wilder and Miss Laura Ingalls, both of De Smet.
Thus two more of our respected young people have united in the journey of life.
May their voyage be pleasant, their joys be many and their sorrows few.
[De Smet News]
*****
Once again, I have been inspired by Laura's life and
to celebrate Laura and Almanzo's wedding anniversary, I imagined this pattern.
*****
This E-pattern is available
HERE in my ETSY Shop
(the completed pouch is sold, thanks)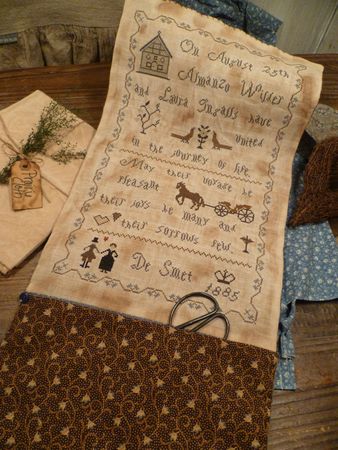 Thanks for stopping by !